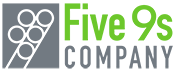 Our website is in development,
but our team is hard at work.
Welcome to the new home of the Five Nines Company, formerly known as Cx Analytics.
We provide full scope commissioning and other professional services, not limited to: project management, maintenance program development, critical power system testing, facility assessments, O&M training and support work in mission critical environments.
Call or email us today
(757) 220-4297| info@five9sco.com
Where facility reliability is critical